IMPORTANT UPDATES:
Prominent FBC Sapulpa deacon now openly selling marijuana to the local community.  Adult son managing pot farm business.  Church refuses to take action as "deacon/elder" causes many to stumble into a life of drugs.
8-14-2022: Head pastor of FBC resigns. "Stepping out in faith" with no other preaching job lined up.
8-10-2022: Deacons meet to force resignation of FBC Sapulpa head pastor in response to recommendation from Pastoral Needs Ministry Team.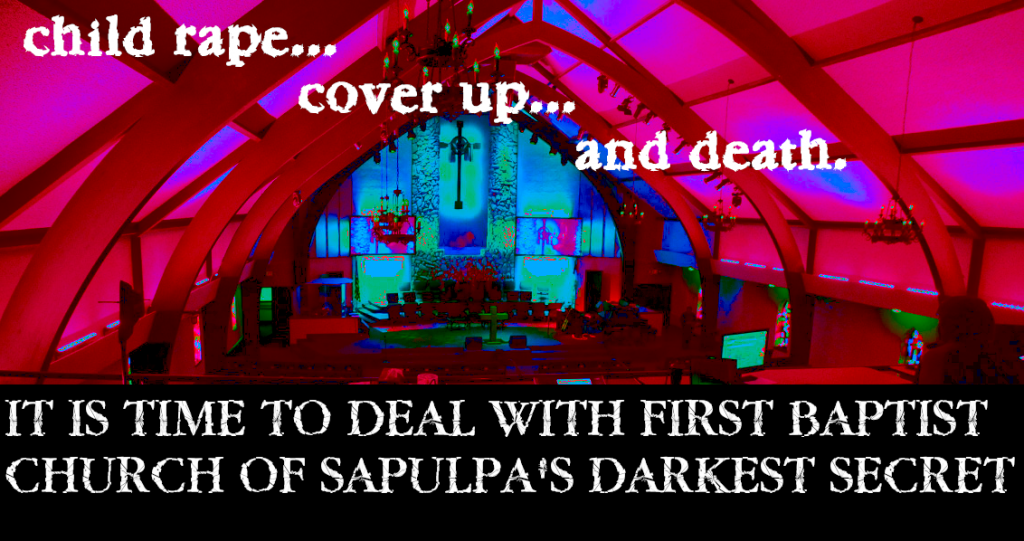 in early 2015 The Sapulpa Messenger started as a church abuse blog  exposing an effort by a new staff and some deacons to force the 9marks HIERARCHICAL system onto our non-Calvinist church. the history of our struggle against the various lies and manipulation can be found here and is continued here.
however, in the course of our investigations into the secret plans of the power brokers at fbc sapulpa we stumbled across a deep dark secret that was far more devilish than anything we'd ever imagined.  one by one the long time members began to reveal to us their KNOWLEDGE of a horrible crime that was committed and never properly DEALT with. over the last few years we have meticulously put those pieces together into a story that is not lacking in any details.
THE SAPULPA MESSENGER haS DEVOTED this page TO THOSE VICTIMS, BOTH LIVING AND DEAD, OF FBC SAPULPA.  THEIR ABUSE WAS CALLOUSLY BURIED MANY YEARS AGO TO PROTECT THE NAME OF A CHURCH.  
THIS IS NOT A CLOSED CASE.  TODAY CHURCH MEMBERS HAVE BEEN THREATENED WITH LAWSUITS FOR READING THIS BLOG. MANY ATTEMPTS HAVE BEEN MADE TO HACK OUR SERVER.  MANY OTHER METHODS HAVE BEEN USED TO TAKE THIS SITE OFFLINE OR SCARE US INTO GOING AWAY. YET WE REMAIN AND WE CONTINUE TO PRESS FOR JUSTICE. 
TO BE BLUNT, THIS IS A true STORY OF CHILD RAPE, COVER UP, AND DEATH.  WE HOPE YOU WILL BE DEEPLY OFFENDED AND SICKENED BY THIS INFORMATION. YOU SHOULD ALSO BE MOTIVATED WITH COMPASSION FOR THESE VICTIMS.  THERE IS MUCH THAT NEEDS TO BE DONE AND IT BEGINS WITH REVEALING THE TRUTH.
IT IS AFTER YEARS OF FORCED SILENCE THAT WE ARE LEFT WITH NO OTHER OPTION BUT TO EXPOSE THIS SIN to THE WORLD. SO TODAY WE INVITE YOU TO FACE THE DARKEST SECRET OF THE FIRST BAPTIST CHURCH OF SAPULPA. 
---
CLICK HERE FOR THE LATEST NEWS FROM THE SAPULPA MESSENGER.
---
---
---