[Note: For more information on the child rape cover up at FBC Sapulpa see our previous article here.]
Recently The Sapulpa Messenger published an extensive expose on the cover-up of the molestation of multiple children by a  former youth pastor of FBC Sapulpa who is the current CEO of the short-term Christian missions provider called We Go Global.  (That report can be found at this link: Child Rape, Cover-Up and Death: The Child Molester at FBC Sapulpa.)  Sadly, the church has refused to formally report this to law enforcement.  Now, one victim is dead from suicide while the alleged molester has risen to a position of wealth and prestige.
After publishing this information, we were shocked to see this recent article from The Star Courier, in which the accused pedophile was using money donated for mission work to renovate flip houses.  The newspaper was totally unaware of his past and considered We Go Global a legitimate missionary organization.  We know better.  Knowing this man's history, it is easy to spot some serious red flags in the article quoted below:
Finally, in March of 2016, [the] founder and CEO of WEGOGLOBAL, came to see it after months of e-mail exchanges and photographs sent. He was interested in the house for the purpose of a mission base. They would live in the house seasonally, have small groups stay with them, and help the community as needed.  WEGOGLOBAL is a non-profit organization with mission bases around the world (13 in the U.S. and at least 5 in other parts of the world). They organize mission trips for people of all ages — high school and college students as well as adults — to do work projects in the community to include painting people's homes, fixing broken windows, building handicapped access ramps, cleaning up blighted areas, etc.  —The Star Courier Oct 2, 2017 [link here]
Recall in our report on the molestations at FBC Sapulpa that he started grooming children by inviting them to stay at his house for private "Bible studies".  The victims selected then were younger high school boys.  You can see elements of this strategy even today in the above quoted article.  Are these "mission bases" where small teams of high school age children will be staying being used as grooming centers?  Are they being intentionally isolated?  Is there something even worse going on here?  At least one "mission base" is located in a remote wooded area in rural Oklahoma where nobody can hear a sound.
Also very disturbing is this line from the above mentioned article:
The team stayed in the basement of the Neponset United Methodist Church, thanks to Rev. Rebecca Klemm and the church parishioners. Rev. Ron Toliver and the Neponset Congregational Church congregation also opened their doors to the group for use as needed. Superintendent Dr. Chris Sullens and Principal Dena Hodge-Bates also offered restroom/showers at Neponset Grade School. 
Showers at a grade school? We have got to get the word out to these poor people!
We also need to reiterate that while at FBC Sapulpa this man cozied up to many of the mothers in order to build a group of dedicated supporters.  We believe the intent was to use them as loyal soldiers to refute any allegations that may be brought up should one of their own children complain of abuse.  We have noticed that this tactic is still being employed by this man today.  More than a few loyal women have refused to accept the facts of the various other scandals he has been involved in, whether that be at We Go Global, Global Outreach, or in the numerous churches that have been wrecked along the way.
Do not be deceived. And even if you are one of the mothers who is convinced that this man is a man-o-God we implore you, do not let your children stay the night with him! Please!
We know some of his victims and we are gathering information to get him investigated by law enforcement but this simply is not moving as quickly as it needs to.  (Honestly, there is only so much an anonymous blog can do. This story needs to be carried to a wider audience…) We are also facing serious opposition by the leadership of The First Baptist Church of Sapulpa who are threatening church members with legal action who read this blog. The fact is there are church members who hold vital information that need to come forward voluntarily.  We can't force them to do it.  However, The Sapulpa Messenger is attempting to persuade the members of FBC Sapulpa to pass a resolution at the next business meeting to open up an investigation and make a report to the police so this man will eventually be brought to justice.  Every day that action is delayed, we fear more people are being put in danger.
Please be warned.  This man is cunning and meticulous. To get the information we published took years of interviews, surveillance, and extreme cyber intelligence.  Still we recognize we have just scratched the surface of the evil and illegal deeds of the CEO of We Go Global.  Therefore, we'd also like to speak to other victims who may have information that can help stop him.  We understand this may mean coming to grips with a lot of deep-seated pain, and for some this may be unbearable and literally impossible.  One thing you must realize though, is that your information can actually prevent him from doing to someone else what he did to you.  Please consider coming forward and help us set this horrible injustice in order.  
You can contact The Sapulpa Messenger at any time.  If you have a lead or a tip please pass it along.  We will ALWAYS respect your privacy.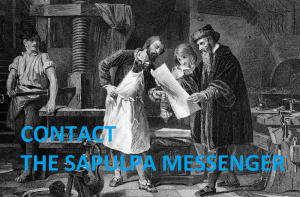 ---